Skip to Content
Pickens Technical College Urban Horticulture and Landscape Pathway: Rise of the Living Walls
The Pickens Technical College Urban Horticulture and Landscape pathway prepare you to enter the exciting and constantly changing world of building greenspaces and natural areas in urban environments. You're not only learning how to break into this growing professional field, but also the basic concepts behind urban horticulture and the use of plant life to enhance city life. As important as the concepts you're learning about the plants themselves and how to raise them, you're also learning valuable insights into how to make a living in this industry and how to run your own urban horticulture and/or landscaping business.
Urban horticulture has been around since the first cities on the planet rose in Mesopotamia, but in modern times, many cities have fully embraced urban greenspaces and have incorporated plants into their architecture. Internationally, Singapore especially has worked hard to use plants and green spaces to improve health and happiness in one of Southeast Asia's largest cities.
One urban horticultural trend that many cities, including Singapore, have embraced around the world is 'living walls', or walls covered with plant life. Obviously, building these living walls isn't easy, and maintaining the potentially large plant ecosystem living in them isn't either, but their benefits can't be denied.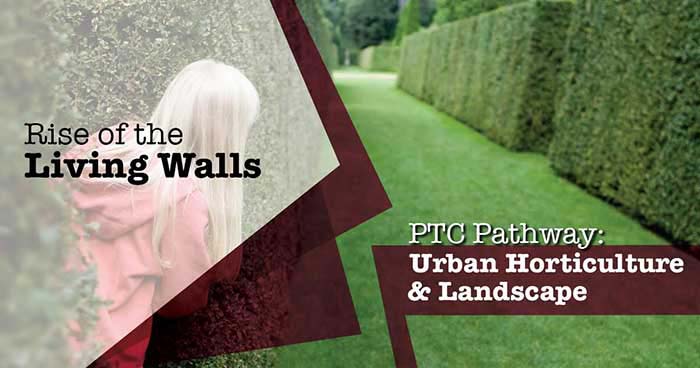 The Trend Towards Living Walls
As more people work more hours indoors in increasingly overpopulated urban areas, the desire for greenspaces is increasing. Setting aside environmental benefits for a moment, such as air quality, urban greenspaces offer city dwellers the chance to experience nature without driving to the forest.
According to some landscaping experts, demand for creating green spaces, especially living walls, in properties like condos, apartments, and even office space, is increasing. More consumers are demanding living walls or a similar urban horticulture project where they live and work. Many urban horticulture companies in the US are specializing in living walls and are watching demand for their services skyrocket.
Challenges of Building and Maintaining Living Walls
Other than dealing with increasing demand, living wall builders also have to deal with a range of issues to create living walls that last and provide natural benefits to as many people as possible for as long as possible.
Since plants (other than ivy) don't typically grow on walls, planting them and watering them is a challenge. Living walls often have to rely on complex hydroponic and irrigation systems that fight gravity to deliver water to all the plants. Another challenge is creating as close to a closed-loop system as possible, so that water isn't wasted as it flows down the wall.
A Bright Future
Living walls are challenging to build and maintain, but their benefits are well-known. With demand for these natural features rising steadily, you will soon be able to utilize your Urban Horticulture training to break into this fast-moving and growing industry spreading all over the world. Get ready to use your skills and knowledge to help build a green revolution.