Skip to Content
Workforce-Ready Technicians Coming Out of Subaru University
Subaru University is a partnership between specially-selected ASE Education Foundation schools like Pickens Technical College and Subaru of America. Retailers that choose to mentor students have the unique opportunity to train future workers the introductory skills they'll need to succeed in the workforce post-graduation. 
So, what's the advantage from the students' perspective? 
Aside from learning the basic technical skills and accepted national standards they'll need to understand to succeed in the automotive industry later in their careers, students have the opportunity to participate in Subaru's Web-Based Training (WBT) and take a competency test at the completion of the program, giving them a serious leg-up on their competition when it comes to finding employment at Subaru retailers – as well as other automotive companies – nationwide after graduation. Credits that students earn during their time with Subaru University can then count those towards any standards that future employers might have for their new hires. 
The best part? 
There's no cost. All WBTs and instructor-led training that happens at the designated facility is free of charge – the only thing you'll need to cover as a student is any travel or lodging expenses that accumulate during the course of the program. 
ASE Education Foundation schools are the focal point of this program for a few reasons, but mainly because the governing bodies that are in charge of these institutions are already equipped to monitor student progress outside of the classroom and in the workplace. In fact, students in most (if not all) of our programs here at Pickens Technical College have the opportunity to get real-world experience and have the lessons they learn off-campus count towards their eventual certificates received at graduation. 
Subaru University understands that everyone's life looks a little different, and work schedules are flexible. The goal is to accommodate both the student and the retailer, allowing for a mutually-beneficial relationship. The apprentice will work with their school program manager to determine specifics. After the required number of training hours has been completed, the retailer will decide whether to hire the apprentice as a more permanent member of their team. 
While participation in programs like Subaru University doesn't necessarily guarantee students a job post-graduation, it does provide them with the resources they'll need to eventually find placement at a service center and the foundational knowledge that other job-seekers might be expecting to learn in their training period. 
Aside from its status as an ASE Education Foundation school, Pickens has a special relationship to Subaru University. Last year, one of our teachers, Ed Martin, was recognized for his work with The Breakfast Club, a project he started for students struggling with hunger. The team at Subaru University showed their admiration by presenting Ed with a check for $2,000 to help cover the cost of meals and provide students with the support they need.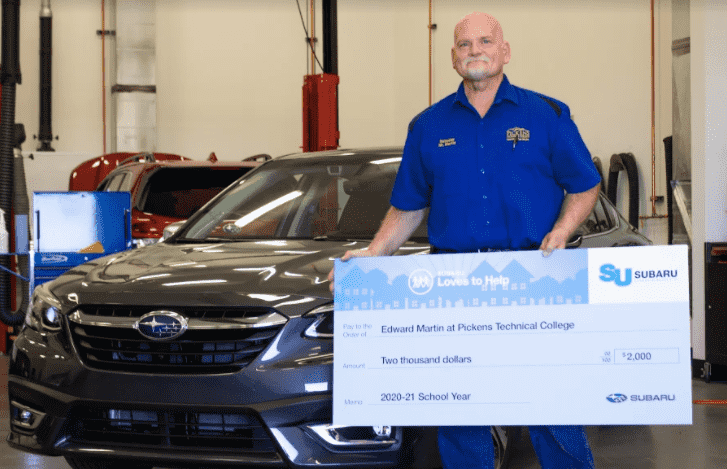 Ed is an amazing member of our Pickens community, and we join him in giving our sincere thanks to Subaru University for their generous contribution. 
For more information on Subaru University, please email Subaru-U@subaru.com or talk to our very own Ed Martin!